Hey Mama!
Whether you're in the 1st or 3rd trimester of your pregnancy, working out and keeping active can seem like your last priority. But moving that incredible body and finding joy in exercise can not only do you good well into your postpartum journey, it can also provide physical and mental support for the amazing (and unexpected!) changes your body is going through.
Some of the benefits of moving your body in a specially designed pregnancy programme include:
Increased oxygenated blood flow – making it much easier to feel calmer and relaxed which we all need, especially in the later stages of pregnancy. 
Physical support for your changing uterus – as your body changes, exercises like the ones below can help support your body to adapt as your uterus starts to tilt and prepare for childbirth.
Increased pelvic floor stamina – we can all understand why your pelvic floor is important for childbirth, as it can really support you through the second stage of labour. Plus, a better understanding of your pelvic floor muscles will help you to recover quicker after childbirth.
The exercises below will provide you with the perfect balance of safe strength-building and gentlecardiovascular work, to help you make the most of your pregnancy and help you feel in control of your body as you go through these unrecognisable changes. Plus, once you make it through the below postures, I have TWO exciting announcements. (And for those of you who just can't wait… click here!)
Remember, all of these exercises should be taken at your pace! But bare in mind that the changes you're going through means that your goals and movements may be different from how you used to do them. Be kind to yourself. Even stepping into your gym gear and movingfor 10 minutes at home is an inspiring step towards supporting your development through your pregnancy. 
You've got this!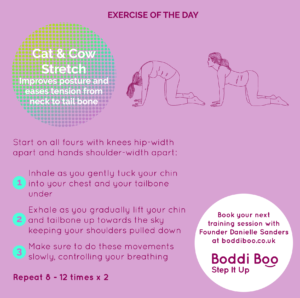 CAT AND COW STRETCH
Another great exercise to really release tension in your back and neck – Use your breath to really feel the benefits of these stretches and engagement through the pelvic floor. 
SEATED KNEE LIFTS
Another important core exercise to help support those inner muscles that need a little extra attention during pregnancy. 
Seated on the edge of a chair or an exercise ball with your feet firmly planted on the ground, slowly raise one knee, hold it, and place it back down on the ground. Make sure you are actively engaging your core by using your breath as you lift your leg. This is not a crunching movement – this is a strong held posture, lifting from the hip flexor.  Take this as slow as you like to really develop your control. 
And if you're looking for a great exercise ball, the one above is perfect! Head here to get your own!

FIRE HYDRANT
As well as being very silly, this move increases your hip flexibility and helps to stabilise your core. Stabilisation work is brilliant for mums-to-be, as it helps to support your pelvic muscles as your baby grows. 
BANDED CRAB WALKS 
This movement helps you to keep those legs toned, as well as helping to align your posture. If you're in your 2nd trimester, you can place the band over your knees, but once you're in your 3rd trimester just have the band at ankle height. 
With the band on, move from side to side like a crab. Take two steps to the left, and then two steps back. Repeat this 10 times. Make sure you are keeping your posture as upright as possible, with your head, neck and spine all in alignment. And try to tuck that pelvis under so you are connecting with your pelvic floor muscles!
The perfect bands for this can be purchased here!

ANGEL WALL SLIDES
The perfect exercise to relieve tension in the upper neck and shoulder area, as well as helping to improve your posture and support your spine. 
BAND LAT PULLDOWN
A step up from the Angel wall slides, these help to add a little resistance to a movement we've worked already. By engaging your lats in this way, you will help to strengthen those muscles that support your back and shoulders in maintaining good posture.
Place your resistance band over your thumbs and pull apart with your hands over your head. You should already feel some resistance. In the same stance that we used against the wall in our Angel wall slides, bring your elbows down to 90 degrees, and then return your arms slowly to above your head. Do 2 sets of 10-15 reps. 
WEIGHTED ROWS 
We're moving back onto all fours and using some small dumbbells, or even some cans of food if you don't have weights at home. These weight rows help to build strength in your arms, shoulders and back which are going to be very helpful in preparing you for the weight of the baby you'll eventually be carrying around!
On your hands and knees, and with a nice neutral spine, slowly raise your dumbbell up towards your shoulder and then back to the floor. Keep your elbows in close to your body to really feel that squeeze in your triceps, and get those arm muscles really engaged! 
These starter dumbells can be bought online here!
Each of these exercises will help to gradually build some strength whilst also helping you to find some release in your body – a win win! If you have any questions about these exercises, please do reach out! Or book in for an online PT session with me for a detailed look at how I can support you through your pregnancy. 
I'm also thrilled to announce that I'll be able to support women through their pregnancies in an even greater capacity as of 2021. I am now a fully qualified Hypnobirthing therapist and will be opening my practice to expectant mothers in the New Year. Through various different practices and techniques, I'll be guiding mums-to-be through their pregnancy and helping them to tackle their anxieties and fears around childbirth and motherhood. I am so looking forward to expanding my services in this way and cannot wait to start working with some "mamas in the making" in the new year! 
And for those of you who may be looking to kickstart your wellness journey in the new year, I'll be hosting an online workshop with HelloParent for new mothers. We will be exploring the ways we can enjoy and celebrate our changing bodies through enjoyable exercise and safe postures so you can feel confident during your workouts and your pregnancy. You can head here for more information on how to sign up:
https://hello-parent.co.uk/about-the-hub/
Supporting new and expectant mothers on their fitness journey has always been a favourite part of my work, and I am so excited that my new venture means I can explore other ways of supporting you too. If you would be interested in finding out more about my new work, please send an email to: 
Until then, happy working-out, keep healthy and enjoy moving it Mama! 
– Danielle x
Boddiboo is a participant in the Amazon Services LLC Associates Program, an affiliate advertising program designed to provide a means for sites to earn advertising fees by advertising and linking to Amazon.com. This page contains affiliate links.